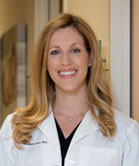 Dr. Lane was raised outside of Dallas and went to the University of Texas at Austin where she earned her bachelor's degree in Human Development. She continued her medical education at the University of Texas Health Science Center at San Antonio and completed her residency in Obstetrics and Gynecology at the University of Texas Memorial Hermann Medical Center in Houston. She then went on to complete a one-year fellowship in minimally invasive urogynecological surgery.
Dr. Lane, who is board certified, is passionate about women's health at every stage of life. Not only does she enjoy providing obstetrics and gynecological care, she is also uniquely qualified to treat conditions such as pelvic organ prolapse, stress urinary incontinence, and overactive bladder. Most importantly, she delivers superb care, individually tailored to each of her patient's needs, in a friendly and comfortable environment.
Dr. Lane is dedicated to women's health education and to contributing her time to service endeavors both locally and internationally. Dr. Lane volunteers at the LifeHouse of Houston ministry and at Dress for Success Houston. She has found great satisfaction and professional and personal growth through her travels to volunteer on multiple medical mission trips for gynecological surgery in San Raymundo, Guatemala with ServingHIM, a Christian dental/medical mission group based in Plano, TX.
Dr. Lane lives in Houston with her husband Dash, daughter Charley and son Deacon.